Mid State Forestry Mulching - Nashville and Middle TN
Our company offers forestry mulching services which is one of the eco-friendly methods of clearing land. The mulching machine shreds up all types of vegetation, leaving behind natural "mulch," which is good for the ecosystem. The device is specially fitted with rotary cutting drums that resemble giant rolling pins with teeth. 
All our services are rendered under the guidance of experts within a stipulated time frame. During mulching, we safely remove unwanted brush, undergrowth, and trees by turning trees as well as vegetation into soil-enriched mulch without damaging soil and root structures. Broken-down vegetation is reintroduced into the ground, making it more prosperous and more fertile. This clearing method is much faster and more efficient than clearing areas by hand, and it can be used to clear large areas of unwanted trees, shrubs, and other brush in a short amount of time. 

Forestry Mulching is a great option for commercial projects.  Here are some benefits to using forestry mulching with commercial construction:
Fast land clearing
Reduces need for permits or special fencing
Keeps the tree root in place to maintain soil structure
No brush or tree piles to remove or burn
Slows vegetative regrowth
Controls erosion
Maintains natural forest appeal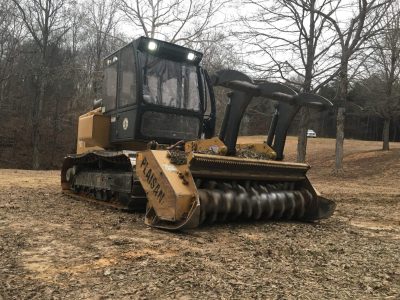 Another main reason to prioritize initial lot clearing is the safety this process can provide. Say the lot you're planning to build on has several dead trees or overcrowded vegetation. Whether you'll be building on this lot right away or you plan to sell it to another builder, the presence of these natural elements can pose a threat. Dead trees are more likely to catch fire or fall, both of which can cause immense damage, while overcrowded vegetation can spread disease, encourage pest activity, or decrease the soil's health.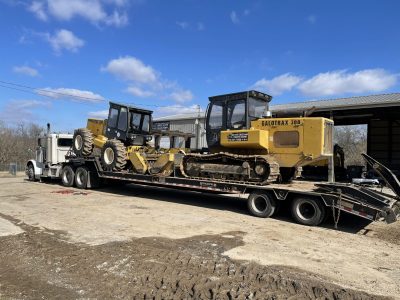 Maintaining the value of the land is another valid reason to clear it before construction begins. This is especially true if you don't plan to build on the ground yourself but intend to sell it to another developer or builder. By clearing the piece of land first, you can make the property a much more attractive option. Just like you'd factor in curb appeal when selling a home, you'll want to make a parcel of land as enticing as possible — and that involves clearing any trees, rocks, and other features that could deter a buyer. If you can present a piece of land that's ready to go, you'll be more likely to garner interest.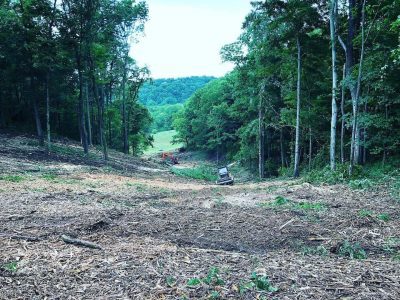 Of course, clearing a piece of land containing trees and other structural elements can make your project execution more efficient. Rather than try to solve problems on the fly throughout the construction process, you can eliminate them from the start and take proactive steps to prevent delays and other challenges. 
We have the equipment to do every project properly. Our state-of-the-art forestry mulching machine goes where larger machinery cannot. It treads lightly, leaving no unsightly tracks or ruts, with no burning or hauling required after land clearing. With no damage to soil or root structures, we turn trees and vegetation into soil-enriching mulch, offering an alternative land clearing solution.

Forestry mulching is also used for wildfire management and vegetation management, which can also benefit wildlife restoration. This is a highly recommended alternative to traditional land clearing methods, for that they do not offer a variety of benefits and can be more destructive to the land. When you are working around burn bans, avoiding air pollution, and desire to prevent fire hazards, forestry mulching is an attractive choice. Forestry mulching is also helpful in state-driven, government-funded projects that need to meet environmental regulations.
Mid State Land Clearing will work with you to transform your property into a beautiful outdoor living space that you can be genuinely proud of. We have built our company and reputation with this concept. No matter what your project, no matter your project's size, we have the experience, equipment, and commitment to providing you with the perfect piece of real estate and mind.