Mid State Land Clearing - Nashville Area and Middle TN
Clear your land with a skillful team of professionals. We use high-quality equipment that is easily maneuverable and reliable to ensure the job gets done right. There are many reasons that customers choose to clear their land including:
Needing to build new homes
Creating Horse Trails or other recreational trails
Making way for fences
Pasture revitalization
Grading land for commercial buildings
Land clearing is a process that removes bushes, stumps and trees to accommodate the development of land. The benefits are safety for people on the property, and accessibility when it comes to visibility with less foliage in sight. Bushes growing too close together reduce visual appeal, while weedy areas can be havens for snakes or rodents. 

The purpose of commercial land clearing is to create a safe plot of land for a builder to work on. Although it's necessary from an off-the-bat  standpoint at the start of construction projects, its additional perks make it worth while as development continues.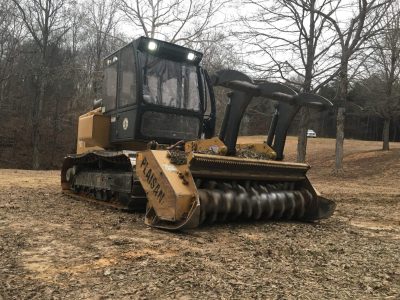 When starting a new development, it's important to prioritize initial lot clearing. This process can provide safety for the site by eliminating dead trees and too much vegetation that could pose threats like catching fire or spreading disease.
Also, our team prioritizes safety first. There are many forestry mulching "companies" that are simply someone with an attachment for a piece of equipment. We are a full time corporation who has safety first as their goal.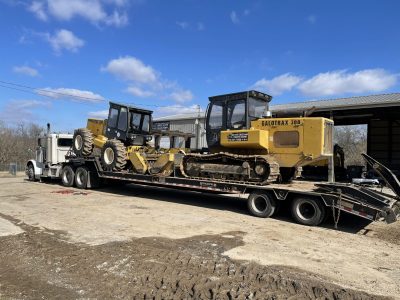 One of the most important reasons to clear a piece of land before construction begins is because it will increase its value. If you don't intend on building anything on this property, but are looking for an opportunity, then clearing should be one of the first things that needs done. If clearing your lot first will make this happen sooner and help customers see its potential, take care to factor curb appeal into how people perceive the land.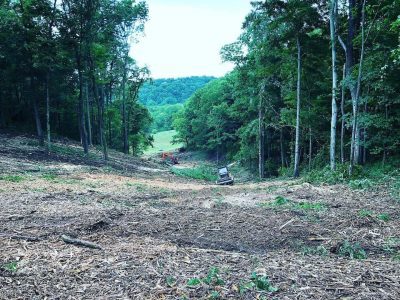 The efficiency of your project is just one thing that will benefit from the use of heavy machinery. You'll be able to solve problems on site before they become a major issue, and you can actively prevent delays by clearing trees and other objects away in advance so there are no surprises when construction begins.
Land Clearing vs Forestry Mulching
In contrast to Land Clearing, Forestry Mulching has many benefits:
Simpler with fewer machines
Permitting is less frequently needed
The mulch helps control erosion
The soil usually stays where it was at the beginning
Workable in wet and snowy weather
Burning isn't required
Unsightly brush piles are not an issue
Forestry Mulching is more sustainable
It's less expensive
There are disadvantages to the land clearing method that includes:
The process requires multiple machines
Typically permitting is needed
The soil is removed or exposed

The exposed soil requires erosion control




Usually a burn permit is needed

It's unsustainable
Often times more expensive