Mid State Land Clearing - Nashville Area and Middle TN
Clearing your land is the process of removing all potential obstacles, such as trees, stumps, brush, stones, and debris. When clearing your property, we use quality industrial clearing equipment with skilled operators for all of our projects. There are many reasons that our customers choose to clear their land, some of these reasons include:
New Construction and Buildings
ATV or Horse Trails
Fence Rows
General Clearing to Return Land or Pasture
Horse Riding Arena
Land Clearing for Retail and Commercial Buildings
In simple terms, "land clearing" removes bushes, stumps, trees, and rocks to accommodate the development of a piece of property. The key benefits of land clearing are safety and accessibility. Bushes and trees that grow too close together reduce visual appeal and property values. Clearing out weeds, brush and removing select trees creates more usable property. Brushy or weedy areas can also be havens for snakes and rodents and larger animals like deer that can create hazards for drivers. Unkempt vegetation can also invite disease-carrying insects and other pests. Clearing the areas and removing unhealthy trees creates a safer, more usable, and enjoyable environment.

The goal of clearing land for commercial purposes is to create a clean and safe slate for construction. While that might sound simple enough, the reality is that land clearing can provide a whole other host of benefits that you might not have even considered. Although the clearing of land is necessary from a practical standpoint at the start of a construction project, it can also have positive ripple effects in the long term.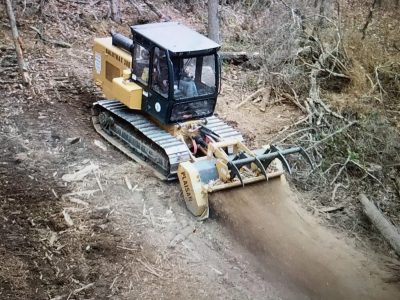 One main reason to prioritize initial lot clearing is the safety this process can provide. Say the lot you're planning to build on has several dead trees or overcrowded vegetation. Whether you'll be building on this lot right away or you plan to sell it to another builder, the presence of these natural elements can pose a threat. Dead trees are more likely to catch fire or fall, both of which can cause immense damage, while overcrowded vegetation can spread disease, encourage pest activity, or decrease the soil's health.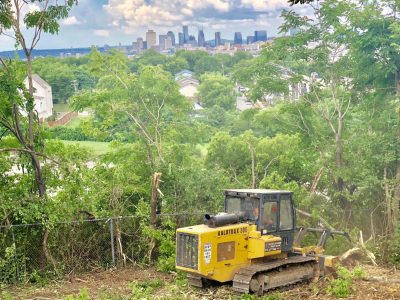 Maintaining the value of the land is another valid reason to clear it before construction begins. This is especially true if you don't plan to build on the ground yourself but intend to sell it to another developer or builder. By clearing the piece of land first, you can make the property a much more attractive option. Just like you'd factor in curb appeal when selling a home, you'll want to make a parcel of land as enticing as possible — and that involves clearing any trees, rocks, and other features that could deter a buyer. If you can present a piece of land that's ready to go, you'll be more likely to garner interest.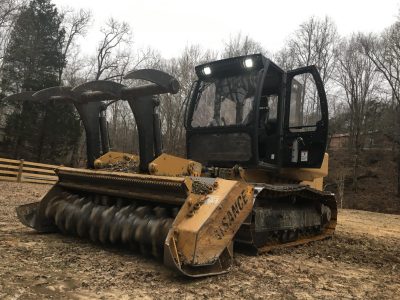 Of course, clearing a piece of land containing trees and other structural elements can make your project execution more efficient. Rather than try to solve problems on the fly throughout the construction process, you can eliminate them from the start and take proactive steps to prevent delays and other challenges. 
Land Clearing vs Forestry Mulching
In contrast to Land Clearing, Forestry Mulching has many benefits:
Forestry Mulching
A single-step process requiring one piece of equipment
Seldom requires permitting
Preserves and builds topsoil layer
Low ground pressure preserves soil structure
Creates natural erosion control
Workable in wet and snowy weather
No burning, chipping and hauling
No windrows and brush piles
Recycles biomass and maintains or increases soil fertility
Extremely selective
Visually appealing
Sustainable
Less expensive
There are disadvantages to the land clearing method that includes:
Traditional Land Clearing Methods

A multi-step process requiring excavators, bulldozers, and haul away trucks
Requires permitting and site plan
Damages and dislocates topsoil layer
High ground pressure results in soil compaction
Requires additional erosion control (silt fencing and catch basins)
Highly weather dependent
Often necessitates burning, chipping, and hauling
Leaves windows and brush piles
Discards biomass and reduces soil fertility
Damages nearby trees and vegetation
Unsightly scarred appearance
Unsustainable
More expensive